Public Lecture by Dr. Tyler Kynn (Central Connecticut State University): "Along the Virtual Road to Mecca: Imagining the Ottoman World in Digital Spaces"
31.05.2023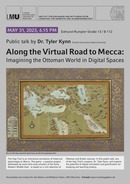 When? 31.05.2023, 18:15
Where? Edmund-Rumpler-Strasse 13, Room B 112
14th May 2023 registration deadline for the Workshop (bjoern.bentlage@lmu.de)
The Hajj Trail is an interactive simulation of historical pilgrimages to Mecca. The game - a passion project developed by some tech-savy scholars of the Early Modern Middle East - is based on a rich selection of Ottoman and Arabic sources. In this public talk, one of the Hajj Trail's creators, Dr. Tyler Kynn, will explore the potential of digital simulation and gamification for studying and teaching history.
The public talk is part of and concludes a multi-part workshop on Arab media.